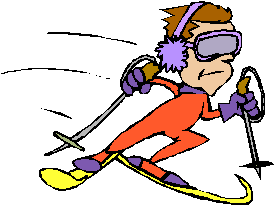 The Ski Trip
Okemo is making snow like crazy, and conditions should
be fantastic for our trip February 19th - 21st at Okemo
Resort in Ludlow, Vermont. There are lots of trails across two mountains.
The price is only $175 per scout...adults are welcome. Included are:
- Coach bus transportation
- Two nights lodging with breakfast on Saturday and Sunday
- Two days of lift tickets for scouts
- Saturday night pizza and salad dinner followed by bowling
- Great memories with your friends

Bring your check make out to BSA Troop 76 to the weekly meeting this Tuesday for ASMs Carlson or Wroblewski. Don't forget to sign up here!
The Snow Sports Merit Badge will be offered again this year, with knowledge and skills demonstration at Okemo. There is a fair bit of preparation for this badge that needs to be accomplished before the trip, so please let ASM Carlson know if you are interested in earning this badge.

To attend this great adventure, scouts must have met their quota and had a family member volunteer for the wreath sales, and earned at least six hours of community service.
For the schedule and many other important details on the trip, click here.

Philmont Scout Camp
August 10 - 17, 2017, Cimarron, New Mexico
The troop is planning to participate in this incredible high adventure in the summer of 2017. On Tuesday, January 19th at 7:00 p.m...before the weekly meeting...Mark Liguori will explain the Philmont adventure and share his experiences in 2012. Eligible scouts for next year's Philmont trip must have completed the 8th grade and have reached the rank of First Class by the Summer of 2017. Tueday's meeting is a great opportunity to learn about the trip. For those who plan to go, a $100/person deposit is due by the end of this month.


Shop on line and donate to scouting. It's free.
Our regional BSA office, the Connecticut Yankee Council, benefits when you shop at Amazon, eBay, Cabelas, Eastern Mountain Sports, REI, and others. These retailers agreed to split some of their income with Council. It's easy and costs you nothing. Help scouting by starting here then choose your store.

Class B Shirts
If you need a Class B shirt please contact Mrs. Francis. The cost of the shirt is $13.

Stay on top of troop happenings by clicking on the "calendar" and "activities" links near the top of this page.