Camp Sequassen
Our troop enjoyed a great week at summer camp; showing exceptional spirit, teamwork and, of course, having fun and earning Merit Badges.
76 won the Land 'n Sea games, a combination of many events; athletic and wacky, performed on the field or in the lake. It's one of the highlights of Camp Sequassen. Troop 76 took first or second place in many of these events.
Earlier in the week, our troop was presented the Spirit Stick, a coveted trophy for the best scout spirit at camp. In addition, they won the Fire Hose competition (video of winning match). Congratulations to the scouts, uniformed leaders and parent volunteers.

A special thanks to all the uniformed leaders, adults and parents who made the week possible. ASM Keating, Mrs. Kaye, Scoutmaster Breitenbach and Mrs. Hogan sent photos from camp. Check out the photos here and the videos here.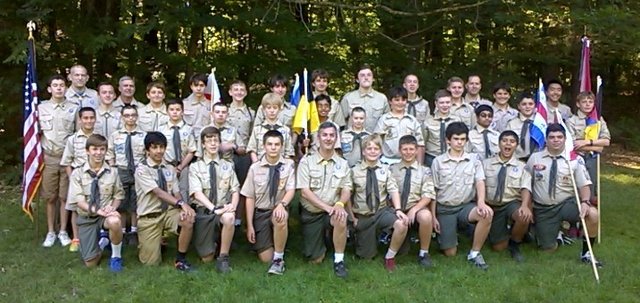 Where's Waldo's Firewood
Please keep an eye out for cut trees or large logs around town to fuel our second annual firewood fundraiser


Donate Free to the Boy Scouts
Shop at Amazon by clicking on this link. 5% of your purchases (part
of Amazon's profit) will be donated to our Boy Scout branch, the Connecticut Yankee Council. The prices you pay for your Amazon purchases are the same and Council cannot identify the purchases of any visitor to the website through the link.

Stay on top of troop happenings by clicking on the "calendar" and "activities" links near the top of this page.