Upcoming Events
5/19 - 5/20, Sturges Camporee
6/5, Troop Planning Meeting - Boys and Girls Club
6/12, Year-End Court of Honor

Sturges Camporee
Saturday, May 19th - Sunday, May 20th Sign up here
Troop 76 will join the other three troops in Ridgefield for the annual camporee at Sturges Park. The weekend starts with working on the grounds and structures in the park. Following lunch, scouts focus on rank advancement. We'll eat dinner there and set up a campsite. Since this event is local, scouts can leave and return from Sturges Park as long as a leader is informed. Download the agenda and overview here, and the equipment list and permission slip here. Bring rain gear and plenty of dry socks since the forecast calls for rain.

On Saturday morning, we'll meet at Jesse Lee at 7:30 a.m. and get equipment from the QM. Day trippers should go directly to Sturges Park. Here are driving directions from Jesse Lee. (The entrance to Sturges is at the end of Rippowam Rd.) Park in either of the two lower parking lots then walk up the trail to the upper field. Only authorized vehicles can drive to the upper field.

First assignment is working on the campgrounds from 8:30 a.m. to lunchtime. (painting, re-building structures, cleaning up trails, etc.) Wear work clothing (that will get stained) and boots. Bring work gloves, insect repellant, sunscreen, a bag lunch and drinks. (There is drinking water available). Advancement will take place from 1:00 p.m. to 5:00 p.m.. Scouts will compete in games against other Ridgefield troops. Patrols then will prepare dinner. All the Scouts will meet at the campfire and each patrol is encouraged to prepare a skit for the entertainment of all.

If a camper did not ride with the troop to Sturges, scouts will be picked up from Sturges on Sunday morning at 10:00 a.m., following a Scout's Own and flag Ceremony. For scouts who traveled with the troop, pick up will be at 11:00 from Jesse Lee.

Any questions, please contact ASM Meredith Keating. As always we need adults to help.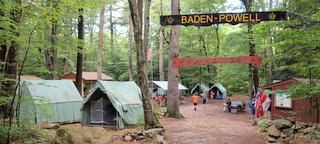 Summer Camp...There's Still Time to Sign Up
Sunday, July 15th - Saturday, July 21st

Payment and Forms due Tuesday, May 22nd
For details, please read our comprehensive
Camp Sequassen web page.
Parent Help is Needed for the following Meetings/Trips:
- The Big Trip. Please email Jana Hogan if you can help.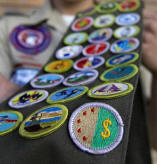 Merit Badge Counselors Needed
Our troop needs parents to become Merit Badge Counselors. We need counselors for the following Merit Badges: Citizenship in the Community, Nation, World, Environmental Science, Cooking, First Aid, Emergency Preparedness to just name a few. There are many many other badges as well. If you have any interest in becoming a Merit Badge Counselor, please reach out to SM Breitenbach.
Planned Activities Calendar for this scouting year is here.